Super App to Test & Monitor Accessibility
A single platform to identify basic and complex accessibility issues at blazing speed. Monitor in real-time & whip up intelligent reports in minutes.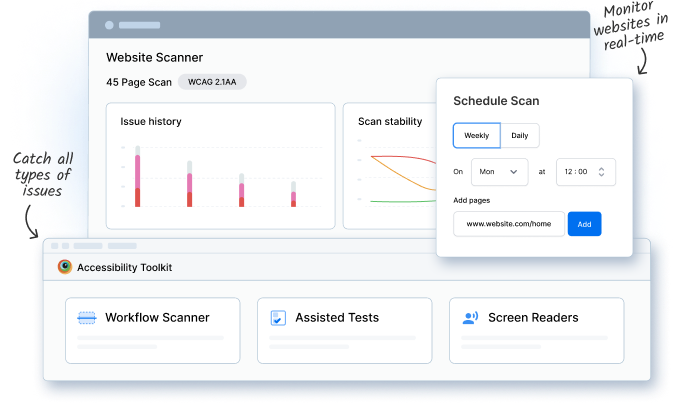 Trusted by more than 50,000 customers globally
3000+
Real Devices & Browsers
Simplified Accessibility Testing for All
Developers
Quickly estimate the effort required to fix issues with accelerated workflows, and debug efficiently with intelligent issue clustering.
QA Testers
Test for accessibility issues at speed, monitor accessibility health with ease, & experience hassle-free reporting using the reporting hub.
Product Managers
Verify accessibility with ease, access WCAG mapped issues to create VPAT reports quickly, and even monitor to stay in the know.
Features
Automatic Workflow Scanner
Find issues across multiple webpages in a single scan. Just start the scanner and navigate through your user workflow.
Assisted Tests for complex issues
Identify issues in keyboard tab stops, as well as accessible name, role & states of your web elements like a pro.
Popular
Screen Readers on real devices
Instantly access VoiceOver on Mac, NVDA on Windows, and TalkBack on Android real devices.
Popular
Website Scanner for monitoring
Run quick checks or schedule scans ahead of time to ensure you're compliance confident & audit-ready at all times.
Instant smart reports
Get auto-generated reports for every test you run, with unique issues intelligently grouped by their type and affected components.
Central reporting dashboard
Access all reports from the past and present on one dashboard. Take only seconds to combine multiple reports into one.
Browserstack helps me keep a dashboard of all accessibility reporting and is great for assisted analysis and automated auditing. One of the best things about using Browserstack for Accessibility is that you are able to test for multiple things all in one place.
Indeed, our Online Hearing Test team had already used axe to address WCAG issues and your tool found 3 additional items that we were able to fix. Early feedback indicates that the tool was easy to use and the developer really liked it.
Over 50,000 companies trust BrowserStack


Piotr Kowalczyk
@pierre_habibi
Thank you god for

@browserstack

<3 Css magic...

#Apple #testing #programming #FrontEnd

Luis H. Ball Jr.
@luishbjr1
@browserstack

Local appreciation tweet 🥰

Browser's refusal to ship meaninful JS feature flags makes it necessary to be able to test on older versions.

Local makes that a breeze ⛵.


Fatih Battal
@fatihtweeting
@browserstack

I love you😘 Nothing more. That's it.


Kevin Basset
@kvnbsst
Big fan of

@browserstack

for cross-browser testing. If you're building a

#PWA

, it's an absolute must-have.

#nocode #iphone #safari #web #browser


Rajendra Kadam
@rajendra_ak
Use

@browserstack

to automate tests on many more devices than those in your farm.


Code With Caen
@CodeWithCaen
Trying out

@browserstack

and am completely blown away. Currently playing around with visual testing using Percy. Super excited I got a sponsored

#opensource

plan too!
Absolutely. BrowserStack Accessibility Testing allows you to manually test website usability using native screen readers on real devices like VoiceOver on Mac, NVDA on Windows, and TalkBack on Android.
Users can choose to target either WCAG 2.0 or 2.1. Additionally, across both WCAG versions, we support identifying guideline violations related to Levels A, AA, and AAA.
The BrowserStack Accessibility Testing extension is currently supported on Google Chrome and Microsoft Edge.
BrowserStack Accessibility Testing covers all three issue detection methods: automatic scanning to detect static issues (using the Workflow scanner), semi-automatic scanning to detect advanced issues (using Assisted Tests), and manual testing to detect usability issues (using Screen readers).