Real Device Cloud
Instantly access a personal cloud of desktop and mobile devices, always available for testing.
Our real device cloud is constantly updated with the latest and best of Android and iOS devices, like iPhone, Pixel, and Samsung Galaxy.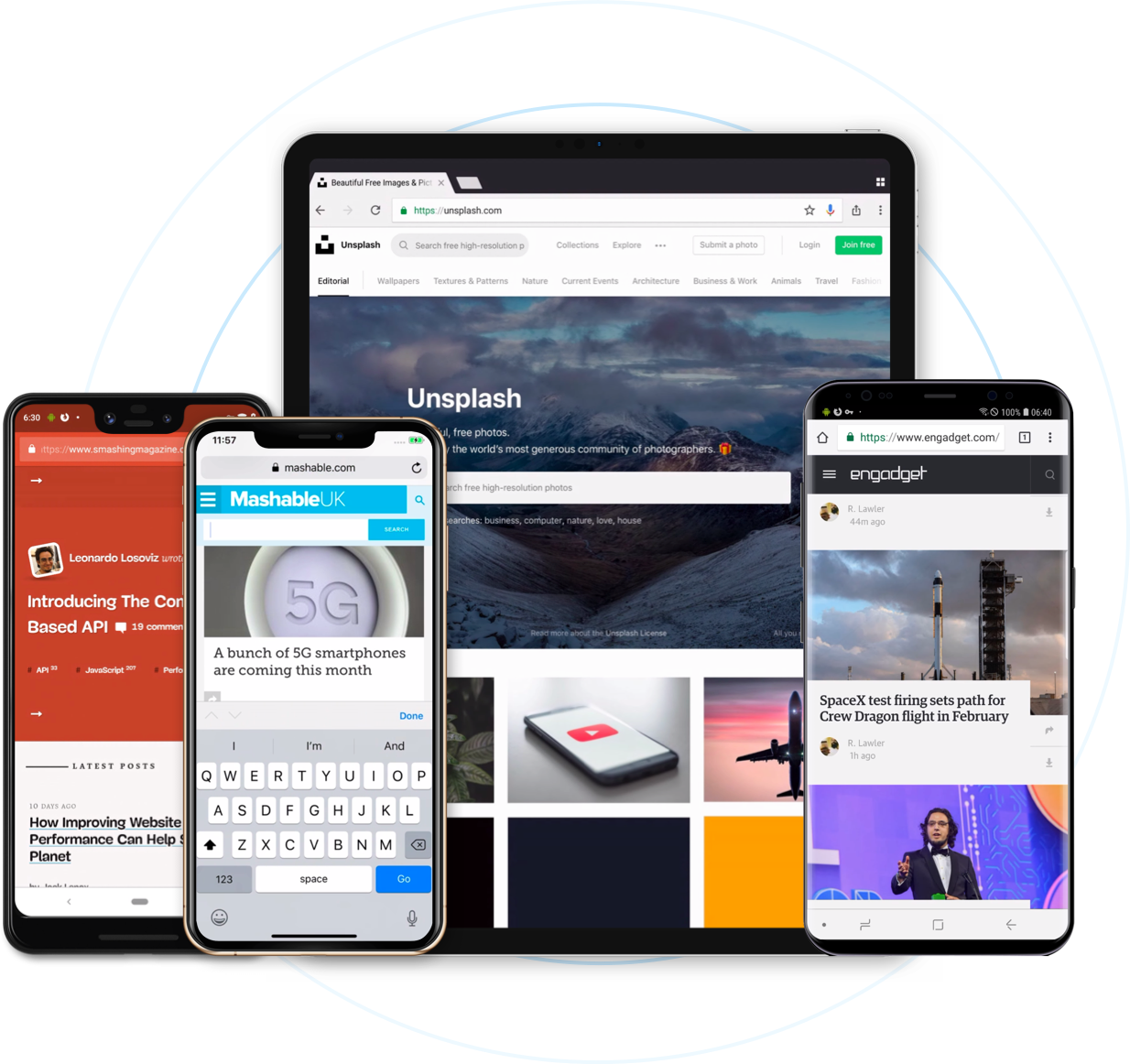 Trusted by more than 50,000 customers globally
Benefits
Replace your device labs
Devices are available for everyone, all the time, without any setup. View all mobile features.
Responsive testing
Check your site across device sizes, viewports and resolutions. Test now.
Instant Access
No queues for testing. Pick a device and start testing. List of devices to test on.
Frequently Asked Questions
Imagine that you have access to thousands of real desktop and mobile devices, each of which can be used for testing websites and apps in real-time, under real-user conditions. These devices are hosted on cloud-based servers, thus making them accessible online at all times. Such a testing infrastructure is called a real device cloud.
As mentioned above, a real device cloud offers access to real desktop and mobile devices on the cloud for testing purposes. This means that testers do not have to bother with purchasing, maintaining and upgrading devices in an in-house lab. They do not have to expend the cost and effort involved in procuring the right devices for testing. All they need to do is sign up, select devices and start testing on the real device cloud.
Testing websites or apps on real devices allows QAs to monitor how their software behaves in real user conditions. For example, testing on a real device allows QAs to observe how an app or web-app would operate when the device is on low battery. Or, they can monitor, with geolocation testing, how an app responds in different geographical areas. Since users demand a flawless experience every time they use an app or website, there is no better option than testing on a real device cloud. 
Additionally, a real device cloud offers all the benefits of an in-house real device lab without requiring any of the effort or expense of setting up such a lab.
While emulators and simulators can be useful for testing in initial stages, they have significant limitations. For example, emulators cannot replicate battery issues, network connectivity, GPS sensors, gestures and the like. They cannot test app behavior in the midst of incoming calls or messages or emulate touchscreen issues. Even the best emulators and simulators cannot be used to test all mobile apps.

These limitations are a serious disadvantage to testers. With such glaring gaps in their testing capability, they cannot test any software to its full extent. Thus, any software released after being tested on only emulators or simulators will almost certainly contain bugs and provide an unsatisfactory user experience.
BrowserStack offers each user a personal cloud of physical desktop and mobile devices, instantly available for testing websites and apps. The cloud is also constantly updated with the latest and most frequently used Android and iOS devices like iPhone, Nexus and Samsung Galaxy. 
Each device is installed with real browsers. This includes multiple versions of the most frequently used browsers (Chrome 15-75, Firefox 3-68, Opera 10-65, Edge and so on). The real device cloud is accessible for both manual and automated testing. 
You can get started for free. Simply sign up and start testing!